Considerations for Feeding Dairy Cross Calves
By Dr. Aimee N. Hafla, Cargill Beef Innovation Lead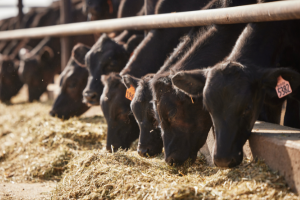 The cattle cycle occurs every 10 years and is an important economic driver of the beef industry. Today, the beef industry is experiencing a reduction of its cow herd. This liquidation of mother cows is intensified by continued drought in high cattle producing regions, such as Texas. The effect is fewer beef calves available for placement into feedlots.
Dairy producers can contribute their dairy cross cattle to the cattle feeding industry, and do so in a traceable, continuous, and non-seasonal way. Depending on the region, dairy beef crossbred animals can also demand a premium compared to their full-bred dairy counterparts.
In June 2023, Overland Stockyard in Hanford, California, reported that dairy cross steer calves averaged $43.00 more per head, compared to Holstein steer calves.
While cattle performance varies across operations, dairy beef crossbred cattle typically display performance advantages for health and growth. Dairies with the right feedstuffs, equipment, and facilities may profit from feeding these calves to differing endpoints (marketing as feeders, backgrounders, or finished cattle).
To reinforce the potential value in the beef supply chain, a 2022 study shows that the eating quality of beef from dairy beef cross cattle was more desirable than beef from dairy cattle, and comparable to the beef quality from conventional beef cattle (Foraker et al., 2022).
Many dairy farms are already equipped to raise cattle for beef. And, by now, there is enough discussion around this topic that most dairy producers recognize it takes more than "feeding them with the heifers" to successfully raise dairy beef cross calves.
Four Considerations for Feeding Dairy Cross Calves
1. Know your metrics.
Become acquainted with common beef industry metrics, what those values should be, and set a goal for your operation. Documenting these metrics will help you and your nutritionist decide the best feeding and marketing strategies. Dairy producers are familiar with average daily gain (ADG), but other economic metrics include:
Feed:Gain (F:G; amount of feed consumed per unit of gain)
Cost of Gain (COG; feed, yardage, processing, medicine, interest, and death loss divided by total gain during the feeding period)
2. Ease the transition.
Transitioning from starter to a feedlot grower total mixed ration (TMR) diet can be a challenge for calves. If this transition is not given care and attention, it can create a growth setback at a time when you should be capitalizing on efficient gain. Keep in mind that a diet containing forage will require higher intakes to meet energy and protein requirements compared to a calf grain.
3. Consider technologies.
Use feeding related technologies to improve animal performance for your dairy origin beef animals. Ionophores mitigate rumen acidosis and improve feed efficiency. Implants have a proven record for increasing ADG and feed efficiency and are particularly beneficial for cattle types with limited genetic propensity for muscling. Consult with your veterinarian when necessary.
4. Learn who's who.
When choosing to feed and market your own crossbred calves, be aware of buyer and packer availability in your region. A survey conducted by Cargill Animal Nutrition found dairy producers cited marketing these animals as one of their top challenges. Be sure the market in your region will buy dairy beef crossbred cattle and evaluate if there is a discount for cattle showing any dairy type.
At Cargill, the dairy and beef nutrition teams, as well as our protein counterparts, collaborating to solve the challenges associated with feeding dairy origin beef animals. Mindful sire selection and early life nutritional management are two vital pieces imperative to the puzzle. While managing liver abscess prevalence and the health implications from the movement of calves through various management segments will require a whole systems approach.
Work with the UpGrade Dairy x Beef Approach to apply the industry-leading expertise of Cargill's feedlot and dairy nutrition teams to your program. UpGrade custom rations are formulated to help maximize profit on dairy origin animals and encourage consistent performance from 400 pounds to finish. Inquire today.
References
Foraker, Blake & Frink, Jenna & Woerner, Dale. (2022). Invited review: A carcass and meat perspective of crossbred beef × dairy cattle. Translational Animal Science. 6. 10.1093/tas/txac027.