Creating profitability for future generations?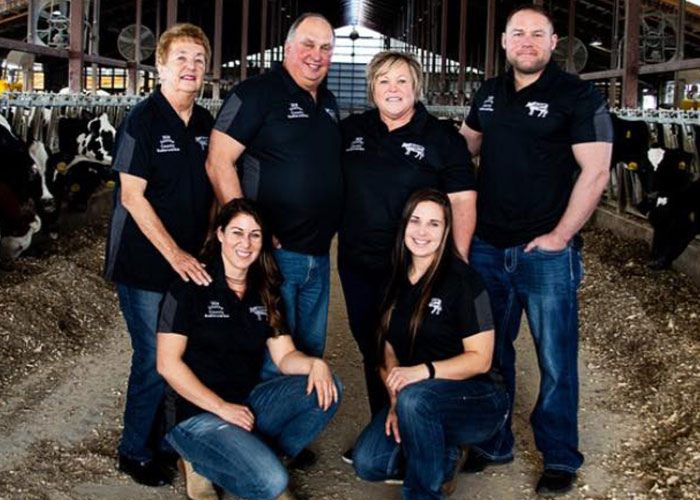 Lena, WI
Dairy Focus Consultant: Connor Willems
Calf and Heifer Specialist: Brynn Raduechel
Key Highlights:
Price shopping for off-farm nutrients
Utilizing dairy MAX™ 'Best Cost Formula' function
Transitioning to a new nutritionist
One thing Mike Alsteen acknowledges is that he can't do it all. It takes everyone working together – his family, employees, and good consultants – to move the farm forward in the right direction.
The Alsteen family milks 520 cows and farms 2,000 acres. Mike and his wife Pam have found success in implementing technology along with progressing their management practices.
"We grow all of our forages and Connor Willems, my Cargill nutritionist, helps us by price shopping for our off-farm purchases," explains Mike. "He analyzes the market data and finds the best deal and that's something I don't have to worry about."
Connor uses Cargill's powerful nutrition software, dairy MAX™ to find the off-farm nutrients to maximize the forages grown on farm. MAX helps Connor and Mike find the clarity needed to make quick, tailored choices when purchasing feed ingredients and formulating specific rations.
"Having someone like Connor who we trust, along with all the tools he brings to the table, relieves some of the stress and anxiety that can come with buying feed," says Mike.
With MAX, Connor can confidently analyze nutrients and choose feeds to improve precision and profitability. Along with forage nutrient data generated by the Elk River Lab, Connor feeds MAX various on farm measurements such as particle length, processing score, and manure starch. These specific farm inputs are analyzed by MAX and tailored nutrition information is outputted.
"Mike and his team consistently put-up high-quality forages and MAX gives me the solutions to maximize those nutrients," says Connor. "Combine this with MAX's ability to generate a 'Best Cost Formula' for purchased feeds, and we can have consistently high performance with economical diets as the markets change."
Alsteen Farms, LLC was started in 1900 and continued by Mike's parents, Harvey and Marian Alsteen. Mike and Pam took over in 1993 and now their children are ready to continue the progression of their family's farm.
"The future of this farm is the next generation, my children, Carolyn and Colby," says Mike. "I'll be there to help them through the transition, just like my parents were there to help me."
When Connor joined the Alsteen Team over a year ago, the farm was transitioning to three times a day milking. They recognized that better nutrition along with better consulting would be necessary for cow health and production. Carolyn took part in choosing the next nutritionist. She identified qualities like innovative, hands-on, and ready to contribute as highly important when making her decision.
"Connor showed initiative from the start," shares Carolyn. "He introduced new ingredients like whey and blood meal into our premix. Since bringing him on and applying his resources and knowledge we reached our goal of 100 pounds per cow and are working towards the next one."
Alsteen Farms also consults with Cargill Young Animal Nutritionist, Brynn Raduechel. Brynn works to progress the farm's calf and heifer protocols by consistently weighing animals to monitor growth and health.
"Our Cargill Dairy Consultants have seen many different practices on farms that they can relate to us and our situation," says Carolyn. "They also use powerful tools like MAX and receive extensive training in different areas. I believe they bring a lot more to the table because of that."