Realities of Dairy Cross Cattle in the Feedlot
By Dr. Aimee N. Hafla, Cargill Beef Innovation Lead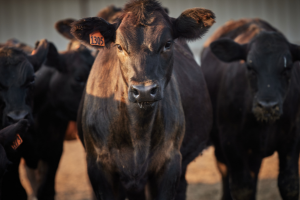 More than 12.0 million head of cattle and calves on feed for the slaughter market in the United States reside on feedlots with a capacity of 1,000 or more head as of May 1, 2022 (USDA, 2022). If marketing crossbred calves to different segments of the cattle feeding industry is the intention, understanding the challenges dairy cross cattle may bring to feeders and cattle buyers is important.

Four Realities of Dairy Cross Cattle in the Feedlot
1. Consistency is key.
Significant inconsistency in crossbreds between sources exist, and cattle buyers have a low tolerance for variation and the unknown. Not all beef sires are created equal when it comes to traits that are important to beef production. Traits like ribeye area, backfat, and marbling are indicators of carcass quality which will add retail value. Characteristics such as yearling height and maternal traits do little for the feeding value of that calf.
2. Yield is lower.
Dairy cattle have a lower red meat yield compared to conventional beef cattle, and these packer discounts are sometimes applied to dairy cross cattle. A recent study found that the dressing percentage (ratio of live weight to carcass weight) for dairy cross cattle was 63%, compared to 63.5% for conventional beef cattle (Foraker et al., 2022). While the dressing percentages reported in this study were more similar than expected, dairy cross cattle were found to have a greater percentage of bone, and therefore still produced slightly less saleable red meat.
3. Early nutrition and health matters.
Early life nutrition and health play a significant role in lifetime productivity of both dairy and dairy cross calves entering feedlots. Calves originating from a dairy operation have a more challenging start to their lives than conventional beef calves. They are weaned from milk much earlier and are introduced to full feed when they are still immunologically and behaviorally naive. Adequate colostrum intake and proper vaccination programs are necessary for building immunity and reducing respiratory illness—known to decrease feedlot performance and reduce carcass quality grade in fed cattle.
4. Liver abscesses are challenging.
The high rate of liver abscesses in dairy and dairy cross calves result in a significant impact to carcass value. Prevalence of liver abscesses for straight bred dairy cattle range from 50 to 80%. For beef cattle, the prevalence is lower at 15 to 30%. Dairy cross cattle fall in the middle at 40 to 60% (Foraker et al., 2022). It is not fully understood why dairy and dairy cross cattle show such high rates of liver abscesses; however, long feeding periods on high concentrate diets that contribute to rumen acidosis and subsequent liver abscesses development is the commonly accepted cause. Gaps during early life nutrition and management could also contribute to this challenge.
There are opportunities to reduce the impact these challenges have on your dairy origin beef animals. Work with the UpGrade Dairy x Beef Approach to apply the industry-leading expertise of Cargill's feedlot and dairy nutrition teams to your program. UpGrade custom rations are formulated to help maximize profit on dairy origin animals and encourage consistent performance from 400 pounds to finish. Inquire today.
References
Foraker, Blake & Frink, Jenna & Woerner, Dale. (2022). Invited review: A carcass and meat perspective of crossbred beef × dairy cattle. Translational Animal Science. 6. 10.1093/tas/txac027.
https://downloads.usda.library.cornell.edu/usda-esmis/files/m326m174z/pz50j2077/j67328819/cofd0522.pdf