Poultry Additives
Delivering additive solutions to support maximized bird performance and profitability.
Nutritional needs of poultry are constantly evolving. Feed additives are important tools to support animal health, performance, and well-being. Cargill brings a robust portfolio of feed additives to poultry customers with our Promote™ products, as well as Diamond V™ postbiotics and Delacon™ phytogenics.
Custom-designed solutions to support your needs
As your trusted nutrition partner, our additive solutions are supported by our commitment to applied research and market knowledge.
Diamond V: Postbiotic additive solutions with the power to perform from hatch to harvest

Delacon: Phytogenic feed additives to optimize production and enhance feed efficiency
Promote: Range of feed additive products designed to support feed performance while contributing to animal well-being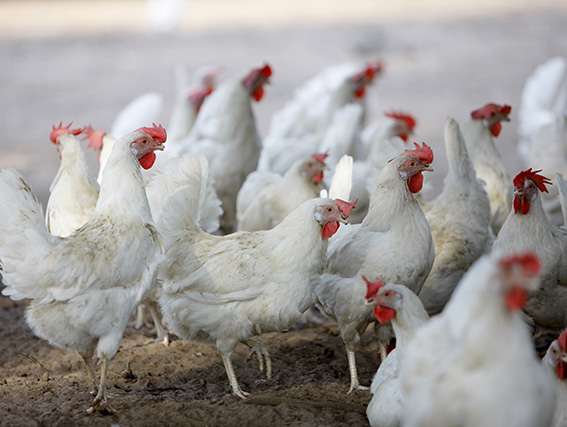 Diamond V
Diamond V poultry feed additives work naturally* with the biology of the animal to maintain immune strength and promote digestive health.
Whether you're raising broilers, layers, breeders or turkeys, it's possible to give poultry the power to perform.
Original XPC™: Supports the bird's immune system to optimize animal health and well-being, promote production efficiency, support preharvest food safety, and maintain resilience and overall performance
AviCare™: Used in poultry drinking water, the dual-action functionality supports immune function and digestive health
Dia-V™ MB: Combines postbiotics and essential oil compounds (EOCs) – known for their beneficial effects on meat bird performance and feed intake
*as defined by AAFCO.
Delacon
Delacon solutions offer leading phytogenic feed additives to support healthy animal nutrition.
Phytogenic feed additives support optimized production and enhance feed efficiency.
Biostrong™ 510: Supports optimum feed conversion ratio in broilers as well as promotes growth performance and supports egg mass in laying rate in layers
Biostrong Protect: Helps maintain adequate feed intake while supporting the bird's natural defense mechanisms
Biostrong Forte: Supports feed utilization and performance while helping maintain gut integrity and helping modulate gut microbiota
Promote
Promote feed additives offer a range of solutions to enhance your flock's performance and health.
Innovative, scientifically demonstrated feed additives provide customer-centered nutrition solutions.
AOX™: A combination of botanicals
Defusion™ 501: A freely-flowing, anti-caking agent and pelleting aid
Enzae™: Phytase blends designed for use in monogastric diets powered by enzymes from BASF®